Get Freelancing Jobs Instantly
Start Working for Yourself!
Join the largest community of freelancers in India!
Academic Writing
| CV/Resume Writing
| Copywriting
Explore Freelance Jobs from Home
Browse online freelance jobs that fit your expertise!
A One-Stop Destination to Kick-Start Your Freelancing Career!
Jump-Start Your Freelance Jobs in India
Earning Money As a Freelancer Is Easy With Workolics!
1. Register Yourself
Fill in your details and qualification, and share the skill in which you are proficient.
2. Pass the Test
Give the test based on your specified niche to prove your subject knowledge.
3. Earn Money
Choose from several freelance jobs from Home as per your expertise and start earning big.
To learn more about the registration procedure,  Explore More
22,500+ Happy Freelancers, Be the Next!
Switch to online freelance jobs & give wings to your dream work and life!
The pricing structure is 1.5 times the price offered by other freelancing websites. You can earn Money by working from home jobs from dozens of freelance services. We value your skill, time and work done!
Get part-time jobs at Home without paying a single penny. We at Workolics do not charge any registration fees. Join the pool of freelancers and like-minded talents absolutely FREE! So come, join, work and earn!
The customer executives team is available round-the-clock for your assistance. Any query related to the registration process, bidding, etc., will be resolved instantly. Our customer support is happy to help.
We closely monitor each transaction to ensure that you are safe from phishing or cyber theft. Helping you achieve financial peace of mind is our primary objective. We do not share your information with any third party. Have a safe financial journey!
Tracking the work progress is easy with the customised dashboard. You can manage your projects, overview the transaction history, search for a new project and many more using the same dashboard. Get control.
Yay! You are on India's best freelancing platform because we are not charging any brokerage fee from you. It gives you a better opportunity to bid with a free mind to get golden opportunities in your freelancing career.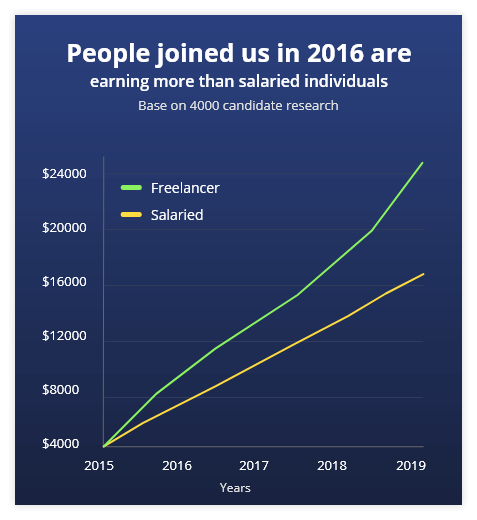 Finish Jobs from Home & Start Earning BIG!
Work-from-home jobs can give you side income!

Nishi Sharma
Academic Writer
4,527

Adila Ansari
Copywriter
4,527

Rupika Banerjee
Blogger
4,527

Amitesh Prasad
Proofreader
4,527

Anita Joshi
Technical Writer
4,527

Kartika Shrivan
Content Editor
4,527